HISTORY – 101: The VCI Chapter
"How a Movie Fan Turned a Love for Movies into a 'Reel' Business"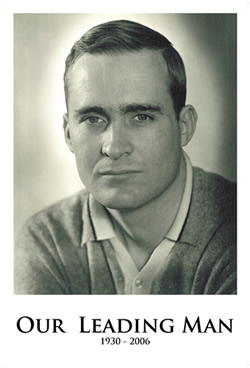 There are probably many who still wonder, "Who is VCI?" and sometimes I wonder the same thing. Fortunately for you, I might be able to shed a little light on that subject, because I've been here since the inception of the company.
Once upon a time… or so the story goes… there was a young man who loved movies. His name was Bill Blair. Bill grew up in a small Oklahoma farming and ranching town; far, far away from the Hollywood glitz and glamour. He loved movies so much, he saved his money until one day he was able to buy a film projector. On many warm summer nights, he would set that 'magic lantern' up in an open tent and project movies on a big white bed-sheet to anyone who could afford his 2 bits admission charge; however, more often than not, he let people in for free.
Some years later Bill got married and moved to the big city of Tulsa and started a family. (That was when I and the other little Blairs came in the picture, but more about that later.) His love of movies continued and he began collecting old prints of some of his favorite films as a hobby. Before too long he had accumulated a sizable film collection. You know how one thing can lead to another, and that's exactly what happened here. He started a movie rental business out of the house. That part-time business grew so quickly that it soon became a 'reel' business, and United Films was born.
I must digress a little here and tell you that, so far this whole story has taken place before the invention of Blu-ray – strike that – it's before the invention of cable TV, VHS or Beta tapes, DVDs, the personal computer, the Internet, Blockbuster, Netflix or Redbox! You see United Films was a "Non-Theatrical" film distributor. Back in those ancient days there was the Theatrical Movie Business, the Broadcast TV Business, and the Non-Theatrical Business. If you are old enough, you might remember those days in school when the A/V guy would roll the projector cart into the room, pull down the screen in front of the blackboard and show a rousing educational movie like Donald in Mathemagic Land, and you may also recall that movies came on 16mm film prints. Back to the history of VCI…through distribution deals with studios like Warner Brothers, Columbia Pictures and Universal Pictures; United Films grew to become one of the biggest non-theatrical companies in the USA.
Then Sony changed the world. Sometime around 1975 the Betamax Video Cassette Recorder was introduced, launching the world of "home video entertainment". Bill Blair had already been experimenting with broadcast and commercial video long before the Sony Betamax arrived on the scene, and he immediately fell in love with this new "home video" medium, realizing the significance it would play in the distribution of movies. He felt this was such an important development that he created a separate company, Video Communications, Inc. (VCI) in 1976 to produce and distribute movies and special programming on video tape.
Most of you probably know that before the HD / Blu-ray format wars; there was Beta vs. VHS, with VHS ultimately vanquishing the formidable Sony format, only to be supplanted by the new digital disc format – DVD, which is now slowly being overtaken by another 'superior' format – Blu-ray. There is one fact that is certain: formats will continue to come and go, but people (God bless them!) still love to be entertained; and watching movies on any screen, via any delivery format or medium, is still the coolest!
Did I mention that Bill Blair loved movies… all kinds of movies? He was particularly fond of 'classic' movies; you know the type, the kind Hollywood doesn't make anymore. I believe that VCI was created (as was United Films) in part, because the business gave him a legitimate excuse to expand his movie collection; he was a movie buff/collector first and businessman second. Well he passed the movie/buff gene on to the whole Blair family, who in their own right, are all true movie mongrels too. Now with his three sons and only daughter at the helm, along with the many employees who are "like" family and even some of his children's children now working at VCI, it is truly a 'family affair'.
Bill Blair sadly passed away in 2006, but his memory and his love of movies live on at VCI. We wholeheartedly continue the tradition he began almost 50 years ago: of finding, preserving and distributing classic (and sometimes eclectic) movies, spanning decades of film production and many popular genres, of the highest-quality reproductions we can procure. Our goal is to become the leading independent supplier of archival quality classic film and television entertainment. It's an ambitious goal, but we think it is a noble one.
Did I mention producing the first movie made for the home video market? Well that's a story for the next chapter. So as they say, please stay tuned.
Robert Blair
President, VCI Entertainment